For new parents, reading recommendations about mother-child products and parenting knowledge is like discovering a new continent. They're baffled about which one they should buy and which mother-child product is the most useful and worth buying. As scientific parenting becomes popular, young parents of this time place greater emphasis on utility and scientificalness. The following must-bought mother-child products steer you away from troubles and mistakes in parenting.
About Baby Food
A baby needs all-round nutrients for a healthy growth. Only by providing nutrition to babies for their multidimensional development can they embrace their future in better shape.
Formula added with prebiotics is obviously a good choice for mothers who uphold scientific parenting theories. Ofmom Runermei Formula is supplemented with a prebiotic mixture of GOS and lcFOS, helpful in developing infant intestinal protection and enhancing infant immunity. It is also added with DHA, ARA, choline, taurine and α-lactalbumin, improving sleep, providing all-round nutrition easy to absorb, promoting development of brain and vision and rendering growth healthy and happy.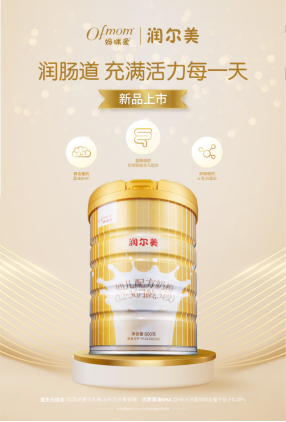 As secondary food, solid food is a complement to breast milk in supplementing nutrients insufficient in breast milk, capable of improving infant digestion and providing balanced and sufficient nutrition for babies. Ofmom OrgaKiddy introduces three series of solid food products including Yogurt Soluble Balls, Brown Rice Sticks and Probiotic Fruit & Vegetable Juice. They have won favour with young parents for their natural and rich flavors and wholesome nutriments, being the perfect choice of babies' subsidiary meal.
OrgaKiddy Yogurt Soluble Balls are yogurt that can be chewed, specially added with 11.4% fresh raw milk with high-content, high-quality proteins easy to absorb. There are various types of fresh juice flavors available processed by advanced freezing and drying technology which retains natural nutrients and guarantees tastiness and nutrition.
OrgaKiddy Brown Rice Sticks use 8 kinds of chemical-free grains produced in Korea and have three flavors including cheese, strawberry and blueberry. The combination of grains and freeze-dried vegetables creates a rich texture which pleases babies' palate. They are rich with high-quality calcium, nutritious and wholesome, helpful in training babies to chew, grab and swallow.
OrgaKiddy Probiotic Fruit & Vegetable Juice adopts the same formula for traditional Korean pear & platycodon juice and uses high-quality Korean Naju Pears and Korean native platycodon as raw materials. The careful selection of different fresh fruits and vegetables endows it with vitamins and organic acid, able to boost metabolism and improve immunity and regarded by Korean mothers as "nature-made cold medicine".
OrgaKiddy whole series are specially supplemented with more than 10 billion MCC1849 strains, assisting to improve babies' immunity and their intestinal health. Infant intestinal health is important for babies' healthy growth especially when babies are at the crucial stage of growth. Only good intestinal health can stimulate digestion and absorption. With the help of OrgaKiddy solid food series, babies can grow fast and strong.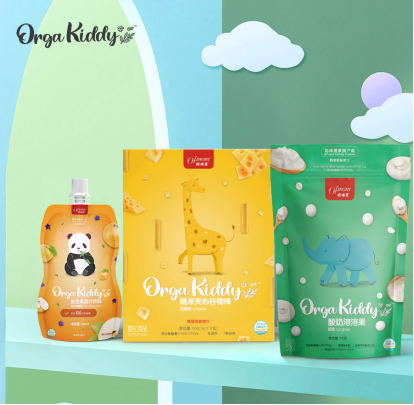 Advancement of Health
Infant intestinal health is closely associated with babies' immunity and digestion. For their healthy growth, probiotics are necessary. Supplementing probiotics can help babies digest and absorb, prevent and relieve intestinal problems such as diarrhea, constipation and indigestion and improve intestinal health. At the same time, it can improve babies' self-protection, reduce health risks in digestion, metabolism and neural system, laying a foundation for babies' long-term health.
The improved version of fmom Probiotics contains 5 billion viable organisms and acarefully selected European patented mixture of HN001, HN019 and M-16V per pack. HN019 can mitigate intestinal discomfort and improve babies' self-protection while HN001 can guard against allergies, eczema and asthma, improve self-protection and promote intestinal health. As for M-16V, it can relieve allergies and reduce the incidence of allergies. Besides, M-16V is both applicable to new-born babies and premature babies. Such mixed strains have higher viability and stronger tolerance to choline and gastric acid, capable of reaching the intestines alive and taking effect, thereby better regulating children's intestinal function. With the prebiotic mixture of FOS and GOS, Ofmom Probiotics can effectively relieve infant constipation and improve digestion.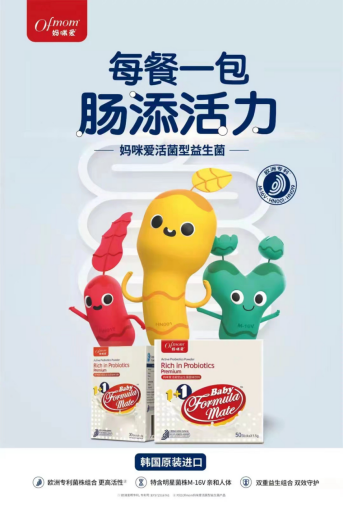 Spring is the time when all living things resume their vitality. It is also the time when allergies and influenza are epidemic. Sanita U-ZA is devoted to infant personal care products for more than a decade and helpful in creating a safe and germ-free environment where babies are protected from bacteria and dust by using natural plant ingredients to inhibit bacterial growth in a safe and effective manner.
Sanita U-ZA series of laundry detergents use plant extracts with naringin as the core ingredient which is extracted from golden grapefruits on Korea's southern coast and reduce bacterial growth by 99%. The laundry detergent series are free from 11 harmful ingredients like fluorescent whitening agent with stronger detergency. Natural ingredients clean clothes gently and leave no residue.
Catering to daily domestic cleaning needs, Sanita U-ZA also introduces series of washing liquids to effectively clean feeding bottles, fruits, vegetables and tableware. The series are contained in portable pump bottle dispensers with pure natural ingredients which are able to effectively remove dirt and bacteria from the surface of toys, fruits and vegetables and quickly remove grease and oil stains. They can keep feeding bottles and tableware clean and hygienic and reduce bacterial growth by 99%, thereby rendering the washed bottles and tableware clear of bacteria.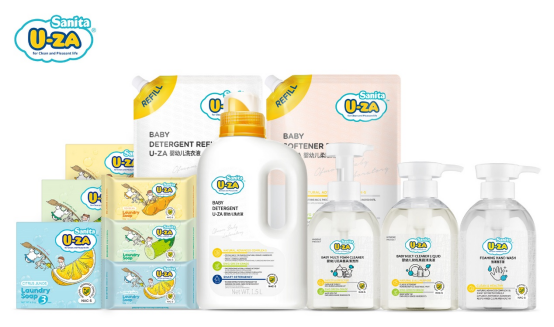 Other than that, infant oral health cannot be neglected. Sanita-Denti—infant oral health care brand advocates a scientific theory of dental care by age, introduces toothpaste and toothbrushes applicable for children aged 0-2, 2-5, 5 and older respectively, and helps achieve oral health with ease and efficiency.
Sanita-Denti toothpaste products adopt different formulas based on different stages. Xylitol is added to prevent tooth decay in a safe manner. The toothpaste contains a non-foaming low-abrasive formula, helpful in protecting babies' delicate gums. Six plant extracts work with lactic acid zymotic fluid to further improve tooth cleaning. New products are specially added with Mastic—a patented ingredient to inhibit the growth of Helicobacter pylori bacteria, thereby making the teeth healthier. The sizes of Sanita-Denti toothbrushes are designed based on children's tooth growth and development characteristics, capable of removing germs and food traps between teeth and maintaining infant oral health.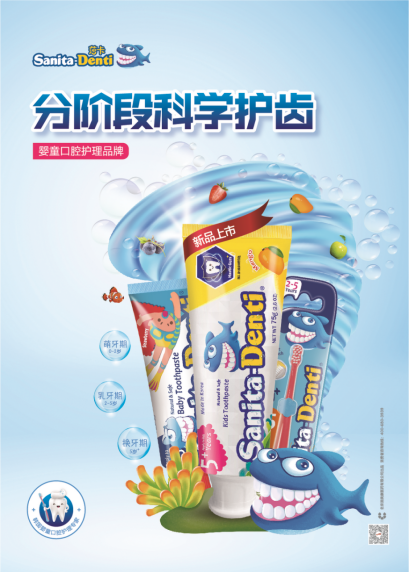 For every mother, since the moment she has a baby, she has been carefully preparing everything her baby needs. With the assistance of these best mother-child products, mothers can better help their babies to grow healthily and lead a life of happiness and intimacy.